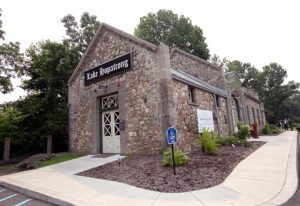 Preservation and restoration work conducted by Connolly & Hickey Historical Architects at the historic Lake Hopatcong Train Station has earned special recognition by the Newark & Suburban Chapter of the American Institute of Architects – New Jersey (AIA-NJ).
Listed as the only recipient of an honor for Historic Preservation in the AIA-NJ/Newark & Suburban Chapter's 2021 Design Awards, Connolly & Hickey were presented with a "Silver Medal."  The Cranford-based firm oversaw the design and planning for the project that restored the station, which was built in 1911, to its original glory and modern use by the Lake Hopatcong Foundation.
"Connolly & Hickey is very proud of this AIA-NJ/Newark & Suburban Chapter Design Award as it presents an opportunity to highlight the collaborative efforts behind historic restoration projects and the vital role that funding from the Morris County Historic Preservation Trust Fund serves to help bring these types of preservation projects to fruition.  The Lake Hopatcong Train Station project, in particular, shows how adaptive reuse of a vacant historic resource can become a reality.  We are honored to be part of making this architectural treasure once again serve as an important community resource," said Margaret Hickey, AIA, of Connolly & Hickey Historical Architects.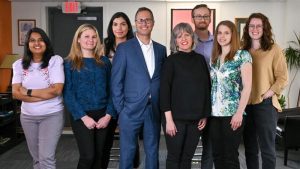 AIA-NJ/Newark & Suburban Chapter is a professional organization dedicated to promote the public's understanding of Architecture through advocacy, education, and service.
"It's an honor to see that a restoration project that received funding through our Historic Preservation Trust fund has been awarded special recognition by the AIA. All of the volunteers who saw this project through should be very proud of this accomplishment," said Joseph Barilla, Director of the Morris County Office of Planning & Preservation.
Connolly & Hickey have been involved in numerous restoration projects in Morris County over the years, including Acorn Hall in Morristown, Fosterfields Living Farm in Morris Township, Ford-Faesch House in Rockaway Township, The Growing Stage in Netcong, the Former Baptist Church om Mt. Olive, Ayres Farm in Denville, the Church of the Redeemer in Morristown and L'Ecole Kinnelon Museum in Kinnelon.
The train station project began with a historic preservation plan that guided the restoration and rehabilitation, and the original 1910 architectural drawings were consulted.
In July, the Morris County Board of County Commissioners and members of the Morris County Office of Planning and Preservation joined the Lake Hopatcong Foundation, the Preserve New Jersey Historic Trust and a host of other state, county and local officials in dedicating a plaque and celebrating the revival of the 110-year-old structure.
A total of $1,129,143 in funding has been provided toward ongoing restoration work at the Lake Hopatcong Train Station through the Morris County Historic Preservation Trust Fund, and the Preserve New Jersey Historic Trust provided subsequent grants of $150,000 and $254,879.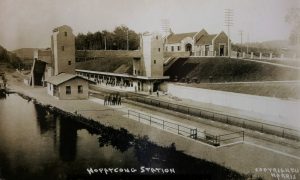 The Lake Hopatcong Station was unique in several ways when it was originally built. It connected rail passengers to the many summer resorts, hotels, camping and cottages around the lake every summer. Visitors would step off the train to jump aboard one of the Lake Hopatcong Steamboat Company boats, access the lake via the Morris Canal nearby, or they would board the Morris County Traction Company trolley in front of the station to reach Bertrand Island.
The station was part of the Delaware, Lackawanna and Western Railroad and the Lackawanna Cutoff project.  It was constructed in what is known as a "Tudor Revival/Jacobethan" style building, similar to a sister station in Mountain Lakes, using stone rubble materials with detailing of concrete and glazed terra cotta.
Inside are a ticket office, main hall and luggage room.
A significant part of Morris County's funding included replacement of its unique roof of green glazed clay tiles from Lodowici Roof Tiles, the same Ohio-based company that supplied the building's original tiles in 1911.
The station is one of 117 historic sites that Morris County has helped to preserve since 2003, after the people of the county voted overwhelmingly to dedicate tax dollars annually to protect our rich history. Morris County has invested more than $43.3 million to protect, preserve and refurbish buildings, structures and symbols of our past.
Photos: 
Top Right: Restored Lake Hopatcong Train Station today.
Center Left: Connolly & Hickey Historical Architects team.  (L-R) Architectural Designer Pallavi S. Kanthe, Administrative Assistant Danielle Brown, Architectural Designer Dahiana C. Medina, Principal Architect Thomas B. Connolly, Principal Historic Preservation Specialist Margaret M. Hickey, Architectural Designer Mirek L. Skros, Historic Preservation Specialist Beth A. Bjorklund and intern Jessica Radomski.
Bottom Right: Lake Hopatcong Train Station in the early years, when passengers hopped off the train to board steamboats or trolleys to Lake resorts and hotels.